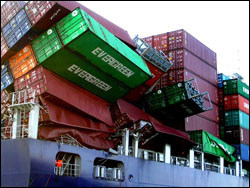 ISCO is a holder of multiple service contracts, which guarantee best services and reduction in rates which in turn are passed onto our clients

In order to ensure a comprehensive and reliable line of services, ISCO marine offers insurance services in association with one of the major insurance companies in Egypt. Due to a large volume of business, these agreements enable ISCO marine, as a broker, to offer competitive insurance rates and conditions. Types of insurance services offered include Cargo, Marine & Transport insurance, Cars, Trucks & Trailer insurance, various Assets insurance and Storage and Fire insurance.

CARGO INSURANCE
Read the back of any bill of lading (you'll need a microscope.)  When you get to the section on carrier's liability, you will be shocked to find out that their exposure for damage to or loss of your freight is also microscopic. Coverage's are commonly limited to $500 per 'customary shipping unit'. In many cases, your full ocean container is the customary shipping unit. Air shipments generally are covered at $ 9.07 per pound. Obviously, there are many shipments, which far exceed these value limitations.

Furthermore, carrier coverage is limited only to the time when the goods are in their control, as opposed to door-to-door. Finally, the small amounts they offer are payable only when it can be shown that the loss resulted from their 'direct negligence'. In short, carrier insurance protection.....isn't.

For most commodities, we can offer "All Risk" insurance, the broadest form of coverage for most commodities.

Physical loss or damage as a result of transit is covered.

We specialize in cargo insurance vs. dealing with a general business insurer with limited knowledge, buying and interest.

Door-to-door coverage available , including incidental storage during consolidation / deconsolidation.

ISCO handles claim process, so you don't have to.

You deal with a known entity - ISCO.

Prompt claim resolution, You don't argue with carriers.

Our corporate volume drive extremely competitive rates for you.

Due to our high volume of insurance and our concentrated buying power we are able to secure, for you, a most competitive rate.  Additionally, by arranging all aspects of your import / export transaction we know exactly what level of insurance protection you need.
And finally, there is another advantage to having ISCO handle your cargo insurance. Unfortunately, from time to time, there will be claims.  ISCO is experienced in the handling of these situations.  With both your shipment arrangements and cargo insurance being handled through Shapiro, we have nearly everything we need to start processing your claim.

Marine insurance
As your logistics provider, ISCO wants to ensure you receive the best possible service in all aspects of the movement of your freight. An integral component of our service is to make sure you are aware of the need to properly insure your cargo during transit and to provide you with a competitive and comprehensive insurance program.

There are certain benefits to obtaining insurance coverage through ISCO.


We purchase large volumes of insurance, which allows us to obtain competitive rates.
We work with a "transportation insurance broker;" therefore, we are often able to insure "high risk" commodities.
We will file all claim documentation on our customer's behalf. In addition, we would follow through until a decision regarding the settlement was reached.
We realize that there are some common misconceptions and/or reasons many importers believe that insurance is not a necessity.

Some believe that their cargo is covered under the ocean or air carrier's insurance policy. As a result, they don't need any additional insurance coverage".
In actuality:

Carriers limit their liability in the event of a loss. In most instances, the limited liability amounts will not cover the value of the customer's shipment.

Some believe that their company provides its own insurance.
In actuality:
we purchase a large volume of insurance, and therefore our rates are very competitive.
handling the claim on your behalf will also save you time and money.

Some believe that CIF terms are protective in that shipments are being insured overseas.
In actuality:
The overseas shipper is only obligated to provide minimal coverage.
Please take a moment to review the following information on the Insurance coverage we can provide to you. We encourage you to take advantage of our cargo insurance program and make sure your goods are protected against the perils of transit. Please do not hesitate to contact us with any questions you may have.