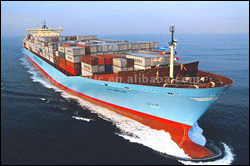 All our staff are well trained and experienced ,Our sea freight office is ready to handle your sea shipments and present door to door from / to any destination whether FCL / LCL with efficient service. All types of goods whether conventional, containerized or Ro/Ro to and from any port of the world are transported with maximum care and speed due to the degree of organization, competence of the staff and optimal use of communication technology. ISCO Marine operates its own offices located in several strategic points in Egypt. We have branches cover all Egyptian marine ports (Alexandria, Dimmitt, Port Said, Suez, Adabia, Sokhna), also we have branch in Cairo to handle all shipment which come from 10th of Ramadan city or 6th of October or any area near from Cairo.

Sea Freight services include:
FCL, Containers, Break-bulk & Roll on/Roll off Services

LCL consolidation/deconsolidation Services

Customer needs drive our consolidation and deconsolidation services. Take advantage of our existing consolidations for economical ocean freight opportunities. Our services continue to grow based on customer demand. Currently we offer regularly scheduled consolidations from any place with competitive pricing to meet your needs.  We are also offering regularly scheduled consolidations from Shanghai. Please contact our Marketing Department (link to sales @isco-marine.com) for our sailing schedule and pricing information today.

Foreign-to-Foreign Logistics Services

Looking for someone to assist in moving product from one foreign location to another? We offer services for foreign-to-foreign moves, which require the knowledge and the resources necessary to understand and comply with the export/import regulations of the countries around the globe.  Our experienced staff and worldwide network of agents are available to unravel the red tape that is often involved in any foreign-to-foreign airfreight or ocean freight shipment.  Contact our Marketing Department (link to sales@isco-marine.com) for information today.

Specialized Cargo

ISCO is well versed in the handling of all types of specialized cargo.  All of our export personnel are IATA/FIATA, and IMDG hazmat-certified. In addition, we have a Certified Ocean Forwarder (COF) on staff, and an export compliance team with countless years of experience. Our knowledgeable staff has been trained to handle all types of cargo. Whether you are moving project cargo, exhibition freight, or dangerous goods, we are your single source for expert handling.

Import & Export Forwarding Services

As country requirements change, so do the documentary requirements. ISCO keeps us with changes in international trade. Let ISCO take your documentation worries away. We are experienced in all phases of international transportation documentation. Utilize our network of foreign agents to set up import routings that meet your needs. For exports, contact us for a Shipper's Letter of Instructions (SLI) and you can outline your requirements to us. Send us your Letter of Authorization (LOA) or a valid Power of Attorney and we'll take care of the rest.
No matter how much goods you have to ship, ISCO will always have the right sea freight solution for you.

We work with reputable shipping lines to ensure capacity on both LCL and FCL shipments. For one-stop shopping, just simply hand your goods to us and we will consolidate them for you. Our sea/air service is the budget choice if you need a shorter lead-time