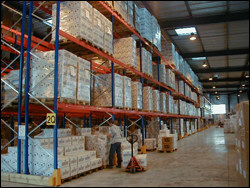 Customized warehousing and distribution solutions improve inventory management, reduce operating costs and speed order cycle times.

Enjoy our network of nationwide drop stations that allow you to deliver your cargo to us no matter where you are. Our network of qualified warehouse agents is there to serve you and make your shipping experience hassle-free.
Benefit from the wide array of services that we offer.

Packing

Container stuffing/un-stuffing

Re-packing 

Labeling

Storage

Distribution
Our handling facilities are Customs bonded, which allows us to move your shipment and containers into our warehouses for unsealing and breakdown




- We offer to our clients a suitable solution for storage of their products.




- Distribution services are also available to our clients who like to concentrate themselves only on the marketing of their products Bonded Warehouse entries allow articles that are subject to excessive duty or taxes - except perishables and explosive substancesother than firecrackers - to be entered into a Customs bonded warehouse and then withdrawn for consumption at a later time. When the articles are withdrawn, the importer will pay the duties, taxes, and fees at the rate in effect at the time of withdrawal.  Merchandise can remain in a bonded warehouse for up to five years after the date of importation Some of the benefits of warehouse entries and the subsequent withdrawals are: